Moena
Place of Interest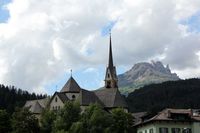 Parish church
Moena
The most southern Ladin town
As the first major town in the Fassa Valley, Moena marks the gateway to the Ladin-speaking region. Although the village was already connected to Italian-speaking Trento in the Middle Ages, the Ladin language has been preserved in a peculiar dialect up to today. Despite mass tourism, Moena still has a beautiful rural town centre. At the central square (Piaz de Ramon) you can find some really old barns (Tobia) between old houses with beautiful frescoes. The neo-Gothic parish church of the village houses a series of frescoes from the 15th century, which shows various saints and scenes representing the Annunciation. It is also worth seeing the old barrel-maker workshop (Bottega del pinter), which was used for cooperage until 1927. It can be visited in a guided tour of the Ladin museum in Vigo.
Surroundings of Moena
Directly from Moena there is a road which branches off into the Valle di San Pellegrino and heads towards the Monzoni mountain range. The Monzoni is a lonely and isolated mountain range which attracts only few tourists; on the other hand, its dark, volcanic-like rock is very impressive, which, at sunset, glows red. The road through the San Pellegrino Valley crosses the San Pellegrino Pass to the Agordino Valley in the Belluno Dolomites. Directly over the Passo Pellegrino there is the small church of Sant'Antonio de Padova. It was built in 1934 on the former site of a medieval hospice that was destroyed in the turmoil of World War II. Regular masses on Sundays and public holidays bring many people into the gorgeous mountain world around the San Pellegrino Pass.