Canazei
Place of Interest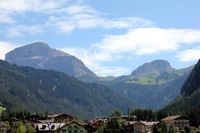 View over Canazei and the Sella
Canazei
Centre of the Fassa Valley
Canazei is very well situated – in the midst of some of the most beautiful Dolomite peaks, such as Sassolungo, Sella and the Marmolada – and offers activities for everyone. Skiers and winter sports enthusiasts, as well as hikers, mountain enthusiasts or nature lovers will find the perfect activity for their needs. Making a round about the Sella is particularly appealing – be it on the wonderful panoramic mountain pass roads or on skis in the winter. Visitors to Canazei can see some old stone houses and wall frescoes, as well as two nice churches.
Surroundings of Canazei
In the neighbouring villages of Campitello and Penia you can see a fresco of St. Christopher next to the ancient village centre. In Penia it is also worth visiting the Museo Colombo Dantone, which provides insight into the rural, Ladin traditions and houses and contains some exhibits from the interwar period. Sports and leisure facilities are offered in abundance in the area around Canazei. The Sella mountain offers many activities both during wintertime as well as in the summertime. The ski and hiking area Ciampac and the Marmolada in the south also offer a wide range of activities. The latter, with its glacier ski area, permits one to ski in the summer as well (access via the Agordino Valley). Nature lovers can enjoy the two Fedaia lakes located near the Fedaia pass. Both the Sella and the Marmolada were violent battlegrounds during the First World War. Numerous locations and museums still bear witness to those events.