Vigo di Fassa
Place of Interest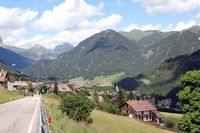 View from the Karerpass
Vigo di Fassa
The main town of the Fassa Valley
Beautifully idyllic, Vigo di Fassa is situated on a sunny slope amidst the mountain world of the Dolomites. With the rock walls of the Rosengarten mountain range in the background, you look over the valley towards the beautiful mountain peaks of Langkofel and the Sella. A particularly beautiful sight are the glowing red rocks of the Monzoni mountain range at sunset. Vigo di Fassa has always been a magnet for large numbers of pilgrims and travellers, having had the only church in the entire valley for a long time. In recent decades, this originally very rural town has developed into one of the tourist hot spots in the Trentino. As a starting point for numerous ski, cross-country skiing, hiking and climbing tours it is one of the most popular holiday destinations in the valley.
Attractions in Vigo di Fassa
A little below the village you will find the church of San Giovanni. It was the only church in the valley until the 16th century and, therefore, the centre for baptisms, weddings and funerals of all the villages of the Fassa Valley. The beautiful late-Gothic building is definitely worth a visit. The baptismal font inside is a reminder of the former importance of the church for the entire valley. The old Ladin houses in the centre of Vigo are also worth seeing. Typical stone constructions and partly beautiful old frescoes bear witness to the past of the original Ladin valley. The Ladin Museum (Museo de Ladin fascia) sheds light on the lifestyle and traditions of the Ladin people. A little further up over Vigo di Fassa there is another Gothic church from the 16th century – the Church of Santa Giuliana. It is particularly nice to see the magnificent frescoes in the interior, which are made in part by the Brixner school. The chapel of San Maurizio next to the church is probably the oldest stone building in the whole valley. It dates from the year 1297.
Surroundings of Vigo di Fassa
Directly from Vigo di Fassa, a cable car takes you to the 1997-metre-high mountain Ciampedie. In the winter there are two great downhill trails which run down into the valley – in the summer there are some attractive hiking trails leading into the Rosengarten. The village Pozza di Fassa at the entrance to the Val di San Nicolo is not far away from Vigo. Except from some exterior frescoes of the old town houses there is not too much to see. The little village of Soraga, about 3 kilometres south of Vigo, is somewhat more charming. The old wooden barns (Tobià) and Ladin houses with beautiful exterior frescoes are worth a quick stop.