Fodom & Arabba
Place of Interest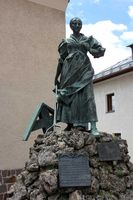 Caterina Lanz
Fodom and Arabba
In the middle of the Ladin mountain farming area
The Ladin mountain farming area Fodom (Ladin: Fodom, Italian: Livinallongo, German: Buchenstein) is located in the northwestern corner of the Agordino Valley. The highest situated and only major city of Fodom is Arabba, also called Reba. Arabba is one of the most important tourist places in the Agordino Valley and is the perfect starting point for tours in the central Dolomites. Arabba itself offers only few attractions and draws tourists mainly because ofthe natural beauty of the Dolomites.
Attractions in Fodom
The town Fodom, also called Pieve di Livinallongo, is primarily known for one of its most famous citizens: Caterina Lanz. The embattled woman heroically defended their village with a pitchfork against the invading French, and is therefore a very popular hero among the Ladin and Tyrolese. Her statue stands onthe square near the central church. Also worth seeing is the beautifully restored castle Andraz on the way to the Passo di Falzarego. The German Buchenstein castle gave the valley its German name. The exposed location of the castle makes it a unique experience.
In the middle ofthe Dolomites, Fodom invites its visitors to take beautiful walks and mountain tours around its high mountain passes Passo di Campolongo, Passo Pordoi and Passo di Falzarego.