Bruneck
Place of Interest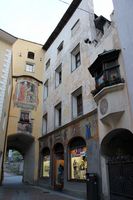 Medieval old town
Bruneck
Centre of the Puster Valley
Bruneck is the undisputed centre of the entire Puster Valley and it is definitely worth a visit. The medieval atmosphere makes it a special destination in the Dolomites. Medieval city gates, a castle, churches, old mansions and several shopping streets where you can stroll around and drink coffee – in short, you absolutely must see this place. Anyone who has some time left should take the cable car up to the Kronplatz above the city. From here you have a wonderful view of Bruneck and the opposite Dolomites.
Attractions in Bruneck
The historic centre of Bruneck is surrounded by a medieval city wall. The best way to enter the town is through Ursuline gate next to the gothic Ursuline church. From here the old city street leads through the old town which is enchanting with its many old houses with wrought-iron trade signs – a very magical environment. If you stroll around in the old town along the Castle Mountain, you will reach the frescoed Ragentor gate and the Oberragen square. The Ansitz Sternbach residence, a baroque statue of the Virgin Mary and the Bruneck Parish Church are in the historic square, which is in front of the walls of the medieval old town houses.
The castle of Bruneck is without a doubt one of the highlights and major eye-catchers in the area. The extensively renovated castle dating from the 13th century has an impressive courtyard, with the arms of the prince-bishops of Brixen, a round tower and several rooms with magnificent Renaissance and Baroque furniture. In one part of the museum there is the Museum of Reinhold Messner, which describes the mountain people. On the way to the castle there's another noteworthy sight, namely, the Rainer church, with its two-floor Baroque onion dome. The city museum of graphic works by Michael Pacher, Albrecht Durer, Alfred Kubin, Paul Klee and Alfred Hrdlicka is also worth a visit.
Surroundings of Bruneck
Just north of Bruneck lies the small village of Dietenheim, whose South Tyrolean Folk Art Museum make it worth visiting. The museum is part of the Ansitz Mair am Hof residence and the surrounding outdoor area. Farmhouses, barns and mills have been gathered from all over South Tyrol and reconstructed according to original designs.