Montecchio Maggiore
Castle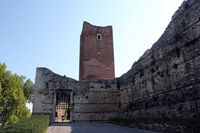 Castello di Giulietta
Montecchio Maggiore and surroundings
The real roots of Romeo and Juliet
The real roots of Romeo and Juliet might be in Montecchio Maggiore, because the history of the famous lovers apparently has its origins here. Surrounded by green, the remains of two powerful Scaliger castles from the 14th century tower in the air over the small town. The nobleman Luigi da Porta from Vicenza, who was recovering from severe injuries from a battle in the town, was inspired by the two castles and wrote the story of Romeo and Juliet. This then neglected love story was later picked up by William Shakespeare who adapted it and helped the lovers achieve unexpected fame worldwide.
Castello di Romeo and Castello di Giulietta
From the Castello della Villa, also called Castello di Romeo, which is attributed to the Montecchi family, the castle walls and the tower still stand. In the courtyard, there are regular concerts and theatrical performances. The Castello di Bella Guardia or Castello di Giulietta, which is attributed to the Capulet family, now houses the restaurant "I Castelli di Giulietta e Romeo," from where you have a wonderful view over the surrounding area while eating. Inside there are some frescoes showing the life of the couple.
If you drive from Montecchio Maggiore to the east, you reach the villa Cordellina Lombardi, where Tiepolo painted the main hall with frescoes of Romeo and Juliet. A little further north in the village you will find the Villa Trissino Trissino Marzotto – their former owner, Giangiorgio Trissino, was Palladio's first real sponsor. His house is still one of the most magnificent in all of Veneto.