City tour through Vicenza
The most beautiful sights in Vicenza with ZAINOO
In the shadow of Venice, Verona and Padua, Vicenza often seems a little stagnant. Nevertheless this small town east of Verona offers so many attractive sights for its visitors that you won't be able to see everything in a single day. As the birthplace and hometown of the famous architect Andrea Palladio, the city is literally littered with magnificent palaces and classical buildings. Whether Basilica Palladiana, Palazzo Chiericati including the pinacoteca or Teatro Olimpico – Vicenza is really a must-see for any visitor of Veneto.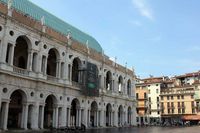 Basilica Palladiana
Experience the most beautiful places in Vicenza
Vicenza, probably more than any other city in Italy, was shaped by one single man: Andrea Palladio. He lived and worked in the city, and everywhere you look today there are many magnificent palaces and monuments of the master. From the many interesting buildings along the Corso Andrea Palladio, beyond the cathedral and the Basilica Palladiana on the Piazza dei Signori, right up to the Palazzo Chiericati and the Teatro Olimpico – all these buildings dominate the city of Vicenza and bear the unmistakable signature of Palladio. But Vicenza is far more than just a collection of famous Palladian buildings. There are many interesting and colourful attractions from many other eras, starting from the Romans through the Middle Ages and the Renaissance up until today.
City tour of Vicenza: In the footsteps of Palladio
Andrea Palladio is considered to be the forerunner of classicism and his buildings dominate the city of Vicenza. But what was once considered modern, and helped Palladio's rise to world fame, doesn't necessarily correspond nowadays to the tastes of most people. The monumental neoclassical façades attract people due to their colossal construction and an irrepressible charm, but they quickly lose their attractiveness when they are compared to the Baroque and Gothic buildings. Art and architecture enthusiasts will find, however, a mecca of interesting architectural styles and beautiful buildings.
ZAINOO city tour through Vicenza
Whether you are an art and architecture enthusiast or simply passing through, you should not miss the most beautiful sights in Vicenza. The suggested routes by ZAINOO lead to the major attractions and the most beautiful places in Vicenza.