Thiene
Place of Interest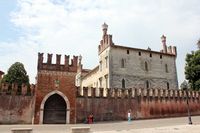 Villa Castello Porto Colleoni-Thiene
Thiene & Schio
Textile towns north of Vicenza
Thiene and Schio are two classic textile towns in the metropolitan area of Vicenza. Wool spinning and textile mills dominate the centre of Schio. Worth seeing is the mighty cathedral with its double staircase, which rises up in the central piazza.
Thiene is also an inconspicuous town but can boast of a first-rate attraction. The villa Castello Porto Colleoni Thiene is one of the top attractions in the region and combines all the characteristics of a Venetian palazzo with a medieval castle. The interiors are richly furnished and decorated with lots of antique furniture and beautiful frescoes by Zelotti and Fasolo. Also worth seeing are the beautiful stables of Veronese marble and the expansive idyllic park.
Just north of Thiene in Lugo di Vicenza there is the Villa Godi Malinverni, one of the first great works by the young Palladio. The interiors are painted with beautiful murals of Venetian painters.