Journey to Vicenza
The city of Andrea Palladio
Vicenza is truly the city of Andrea Palladio. Anyone taking a trip to Vicenza and its surroundings can't avoid this great man – his buildings dominate the city of Vicenza and the surrounding villages and towns. But the province of Vicenza offers much more for its visitors: scenic hills, magnificent mountain views and beautiful medieval city centres. Don't miss fresh grappa brandy in Bassano del Grappa and the typical Asiago cheese in the high plateau.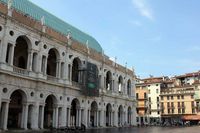 Basilica Palladiana
Journey to Vicenza: Home of Andrea Palladios
The magnificent and unique works by the Renaissance architect Andrea Palladio attract countless visitors to Vicenza every year. His buildings dominate the city of Vicenza, the city where Palladio was born in 1508 and where he lived and worked until his death in 1580. Whether Basilica Palladiana, Teatro Olimpico, Palazzo Chiricati or Villa Rotonda – each successive building grander than the last – visitors to the city will be in awe. Most of his buildings are now World Heritage sites. But even Roman ruins, medieval buildings and beautiful churches are in Vicenza – more than one reason to visit this beautiful city in the middle of Veneto.
Journey to Vicenza: Veneto's hidden treasures
There are also numerous attractions you should not miss in Vicenza's surroundings. The famous Ponte degli Alpini in Bassano del Grappa, followed by a grappa tasting, or the medieval village of Marostica. Numerous cemeteries, memorials and ancient fortifications bear witness to the heavy fighting during the First World War in the mountains north of Vicenza. Sports enthusiasts and recreation seekers will find respective fields of activity on the high plateau of Asiago, on the Monte Grappa, in the Monti Bérici and in Recoaro Terme. Whatever your reason for a trip to Vicenza is, on ZAINOO you will be supplied with the best information and useful tips.