Lonigo
Place of Interest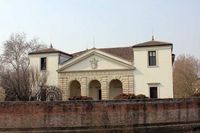 Villa Pisani
Lonigo
Agricultural town with amazing neo-Gothic cathedral
Lonigo is a small and unassuming agricultural and industrial town in the south of Vicenza, but is mainly worth a visit due to its magnificent gothic cathedral. The mighty building is located in the centre of the city. Outside it is characterised by a typical stripe pattern of brick and white chalk ashlars, which is known from the area around Verona. The pedestrian zone around the cathedral is an apt spot where you can stroll or linger.
A little south of Lonigo there is the small town of Bagnolo di Lonigo which houses the Villa Pisani, a magnificent Palladian villa from early times. It was probably built between 1542 and 1544 and its manor house is still well preserved. The building was recently added to the list of UNESCO World Heritage sites.
Monti Bérici
Lonigo is situated at the western end of the Monti Bérici mountain range that stretches south of Vicenza. The lush, green hill country serves as a recreational area for the people of Vicenza. The magnificent nature in the sparsely populated area full of narrow streets allows for a leisurely ride and offers a welcome break from the sightseeing tours in the nearby major cities.