Teatro Romano
Amphitheater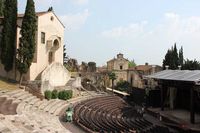 Roman theatre
Teatro Romano and Museo Archeologico
Roman theatre and archaeological museum
The Roman theatre was built in Verona at about the same time as the Roman arena. After the fall of Roman Empire, the Teatro Romano was, like the arena, used as a quarry and left to decay. The small church of San Siro e Libera still bears witness to the partial conversion of the theatre. You can still see 25 stone seats from the lower grandstand in the theatre. Besides a small loggia, unfortunately nothing remains of the multi-storey, figure-decorated front wall and the upper stand. Today the Teatro Romano is once again used for events. The Verona Summer Theatre Festival attracts thousands of visitors to the theatre performances and concerts. More information and tickets can be found at www.estateteatraleveronese.it.
Archaeological museum with a magnificent city view
If you walk up the stairs along the rows of the Teatro Romano, you will arrive at the entrance to the archaeological museum, which is located within the walls of the old church. Inside you should pay particular attention to the beautiful mosaics and the Etruscan and Roman bronzes and sculptures. In the adjoining cloister you will see grave stones and inscriptions which date back to the date of the birth of Christ. Heading through the chapel you will reach the large terrace of the Museo Archeologico where you can enjoy a magnificent view over Verona.
Opening hours
Monday 13:30 | 19:30
Tuesday 8:30 | 19:30
Wednesday 8:30 | 19:30
Thursday 8:30 | 19:30
Friday 8:30 | 19:30
Saturday 8:30 | 19:30
Sunday 8:30 | 19:30
Discounts
free entrance with VeronaCard