Illasi
Place of Interest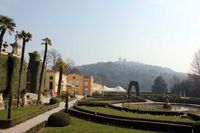 Villa Sagramoso Perez-Pompei
Illasi
Scaliger castle and wine-growing village east of Verona
The wine-growing village of Illasi impresses with two main sights. Two beautiful villas from the 17th centruy and a powerful Scala family castle on the hill above the town. The two villas from the 17th century were built by the Veronese noble family of Pompei and have beautiful gardens and rich frescoes. The villa Sagramoso Perez-Pompei and the Villa Carlotti Perez-Pompei are located in the north of the town and are unfortunately closed for visitors. The Scaliger castle can be reached by a winding road that branches off at the church in the village on the left-hand side. At the end of the road a 20-minute walk leads to the castle. The castle is also closed for visitors but the magnificent view over the Veneto and the beautiful backdrop of the castle make this trip worthwhile.
Scaliger castle in Tregnago
Only 5 kilometres north of Illasi is the small village of Tregnago. In a 15-minute walk you can reach an impressive Scaliger castle on the hill above the village. At both castles – Illasi and Tregnago – Roman watchtowers have been preserved. The same is true of the Scaliger castle in Soave. This suggests a sophisticated Roman security system. Each tower can be seen from the next. In case of emergency the towers could warn the entire region very quickly with balefires.