Scaliger Tombs
Memorial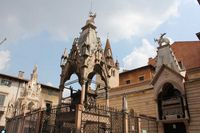 Tombs of the Scala family
Scaliger Tombs
The Scavi Scaligeri – tombs of the lords of Verona
With their very finest stone-carved sarcophagi, the Scala family's tombs are among the most famous photographic motifs of the city of Verona. High above the entrance of the family church of the Scala family, the Chiesa Santa Maria Antica, the tomb of the most important Scaliger, Cangrande I (1291-1329), reigns supreme. In allusion to his epithet "Big Dog", four dogs support the sarcophagus onto which the portrait of Cangrande is carved. The sarcophagus is protected by a large canopy topped by an imposing equestrian statue. The original statue can be admired in the Castelvecchio.
The Scaliger family's peak: Mastino II and Cansignorio
The rest of the graves are fenced off and, unfortunately, can only be viewed from outside. Noteworthy among these are the tombs of Mastino II (1308-1351) and his son Cansignorio (1334-1375) under whom the rule of the Scaliger reached its peak. The grave of Mastino, the mastiff, is surrounded by marble and ornate wrought-iron ladders (ladder = Scala, the heraldic symbol of the Scaliger). It rests on four pillars, creating the structure of a crown with a turret. Mastino himself is riding in full armour on the turret.
While it is the most richly decorated, the grave of Cansignorio, the lead dog, is considered to be the least artistically valuable tomb. Six knights in tabernacles guard his tomb. Cansignorio himself is also shown at atop his horse – the quality of his statue cannot compete with those of his predecessors.
More tombs of the Scaliger
In addition to these three famous Scaliger lords you will also find the tombs of Mastino I, Alberto I, Bartolomeo I, Cangrande II and Bartolomeo II. The church of Santa Maria Antica, the family church of the Scala family, is a beautiful example of Veronese Romanesque architecture. The use of two different building materials, which are used in strip-shaped turns, is especially typical of the Veronese architectural style. The interior of the church was revised and restored several times – in the central nave you can find some frescoes from the early 14th century.
Opening hours
Monday 13:45 | 19:30
Tuesday 8:30 | 19:30
Wednesday 8:30 | 19:30
Thursday 8:30 | 19:30
Friday 8:30 | 19:30
Saturday 8:30 | 19:30
Sunday 8:30 | 19:30
Discounts
free entrance with VeronaCard