Juliet's tomb
Memorial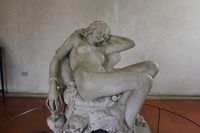 Frescoes museum
Tomba di Giulietta and Museo degli Affreschi
Juliet's tomb and frescoes museum
Juliet's tomb is located in the vaults of the Abbey of San Francesco. According to William Shakespeare's play Romeo and Juliet were buried here. Soon after Shakespeare wrote his love story, a real sarcophagus for the lovers was placed in the courtyard of the monastery. The lid of the sarcophagus and the remains inside were taken to a secret location by the Venetian government because they didn't want the two suicides to have too much public attention. Nevertheless, worshipers of the literary lovers still came to the monastery to praise their idols. Even celebrities, like Marie-Louise of Austria, Napoleon's wife, came here. After the visit she had some jewellery made from fragments of the empty sarcophagus.
For a Hollywood film in 1937 the sarcophagus was taken into the convent vaults for filming the death scene, where it can still be admired today. For particular Romeo and Juliet fans it is even possible to get married in the vault of the tomb.
Fresco museum
Under Juliet's tomb, the monastery houses the Museo degli Affreschi, the frescoes museum, which opened in 1975. It contains numerous frescoes from the palaces of Verona from the 16th to the 18th century. In the courtyard and basement there are sculptures and amphorae from Roman times.
Opening hours
Monday 13:45 | 19:30
Tuesday 8:30 | 19:30
Wednesday 8:30 | 19:30
Thursday 8:30 | 19:30
Friday 8:30 | 19:30
Saturday 8:30 | 19:30
Sunday 8:30 | 19:30
Discounts
free admission with VeronaCard