Chiesa San Fermo Maggiore
Church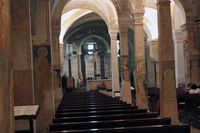 The lower church
Chiesa San Fermo Maggiore
Religious building with two churches in Verona
The Chiesa San Fermo Maggiore dates from the 5th century and houses the mortal remains of the martyrs San Fermo and San Rustco. The two Veronese men are buried in the main altar. In the 11th century the current Church of San Fermo was built here, a complete new church which includes the original building – the original church is still open for visits today.
The exterior has the typical Veronese stripes design with two different colours of rock. Next to the main entrance you can see the tomb of Aventino Fracastoro, a Veronese physician. You can enter the church itself through the side portal.
Art in the Chiesa San Fermo Maggiore
An especially magnificent feature of the church's interior is the beautiful wooden ceiling, which extends over the entire nave. The two paintings of the crucifixion by Turrone and Altichieri over the main entrance and above the side entrance deserve special mention. Opposite the side portal you can still see some fragments of the fresco by Stefano da Verona, "Angels holding banners". In the right-hand corner to the back of the church is the mausoleum of Nicolò Brenzoni. The sculptor Nanni di Bartolo and the painter Pisanello created a masterpiece combining both sculpture and painting.
The lower church
To the right of the main altar you can reach the lower church of the Chiesa San Fermo Maggiore through a door. The lower church creates the impression of a multi-aisled construction because of its many pillars. On the walls and pillars you can still admire fragments of the frescoes from the 13th century.
Opening hours
Monday 10:00 | 18:00
Tuesday 10:00 | 18:00
Wednesday 10:00 | 18:00
Thursday 10:00 | 18:00
Friday 10:00 | 18:00
Saturday 10:00 | 18:00
Sunday 13:00 | 18:00
Discounts
free admission with VeronaCard