Palazzo della Gran Guardia
Palace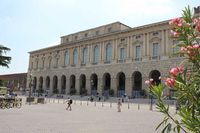 City guard at Piazza Brà
Palazzo della Gran Guardia
The house of the city guard
The Palazzo della Gran Guardia (palace of the grand guard) is located right next to the Portoni della Brà, the old city gate. The palace served as the headquarters and registered office of the city guard and was built in 1610.
The loggia and the parade ground on the ground floor of the palace were designed by Domenico Curtoni. The staircase and upper floor were not completed until 1850. You can see the style of the master builder of Curtoni, Sanmicheli, especially when looking at the twin pillars on the upper floor – they imitate Sanmicheli's Porta Palio.
Today, the former city guard is used as a conference centre and as a gallery.