Museo Lapidario Maffeiano
Museum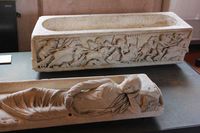 Sarcophagus of a young man
Museo Lapidario Maffeiano
Archaeological museum of Verona
The Museo Lapidario Maffeiano was established by Francesco Scipione Maffei (1675 – 1755) between 1718 and 1727. Maffei was a passionate collector of archaeological pieces and had the declared goal of bringing the ancient and classical era to the common people. Many of the treasures were plundered by Napoleon's troops in the 19th century and were taken to Paris. Although the majority of Maffeis collection is now in Verona once more, a few valuable pieces remained in the Louvre in Paris.
In the courtyard and the portico of the museum there are 230 inscriptions, reliefs, sarcophagi and several sculptures, which Maffei collected and displayed. In the impressive lobby of the Academua Filarmonica you will find sculptures and inscriptions by the Romans and the Etruscans which have been accurately dated. The Lapidary itself has the character of a living room.
Especially worth seeing on the first floor is Italy's largest collection of Greek grave inscriptions (5th century BC to 4th century AD) with detailed descriptions of the daily life of the ancient Greeks. On the second floor, Etruscan urns, finds from the early Venetian time and a Roman sarcophagus of a young man can be found.
Opening hours
Monday 13:30 | 19:30
Tuesday 8:30 | 19:30
Wednesday 8:30 | 19:30
Thursday 8:30 | 19:30
Friday 8:30 | 19:30
Saturday 8:30 | 19:30
Sunday 8:30 | 19:30
Discounts
free entrance with VeronaCard