Cathedral of Verona
Cathedral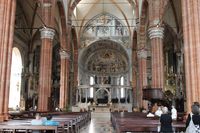 The nave
Duomo Santa Maria Matricolare
Verona Cathedral
Verona's cathedral, the Duomo Santa Maria Matricolare, is a fantastic mix of Romanesque and Gothic elements. The typical Veronese strip design from two different building materials is already apparent from the exterior. The cathedral itself dates from the 8th century. Prior to this there was a small basilica on the same site, which was replaced by the cathedral after it was destroyed by an earthquake. The new cathedral was called the "Mother Church" – Santa Maria Marticolare. Numerous modifications and constructions explain the cathedral's current appearance. Particularly noteworthy is the facade portal by Master Nicolò with two beautiful bas-reliefs. In the 15th century the cathedral was reconstructed in neo-Gothic style. The gleaming white tower was completed in the 20th century.
Inside the cathedral
The Duomo Santa Maria Matricolare is a three-aisled church with richly decorated aisles and numerous chapels. Well worth seeing is the first chapel to the left, the Capella Nichesola, with its famous altarpiece "Assumption" by Titian. The picture shows the apostles kneeling around Mary's coffin and the mother of god herself floating in towering clouds. The kneeling and praying apostle to the left represents the artist Sanmicheli.
Also worth seeing is the main work by Liberale di Verona "Adoration of the Magi" in the second chapel to the right. The Capella Mazzanti houses the sarcophagus of St. Agatha. The sarcophagus was made in the style of the Scaliger in the 14th century and shows the saint as she protects the poor, pastoralists, goldsmiths and weavers from breast diseases, animal diseases and earthquakes. You can enter the baptistery of San Giovanni through an inconspicuous door to the left of the apse. Worth seeing here is the octagonal font, which was carved from a single block of marble. Several metres from the baptistery you will find the small chapel of Saint Helen, which features a number of Roman floor mosaics.
Opening hours
Monday 10:00 | 17:30
Tuesday 10:00 | 17:30
Wednesday 10:00 | 17:30
Thursday 10:00 | 17:30
Friday 10:00 | 17:30
Saturday 10:00 | 17:30
Sunday 13:30 | 17:30
Discounts
free admission with VeronaCard