Basilica di San Zeno
Church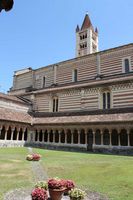 San Zeno and cloister
Basilica di San Zeno Maggiore
One of the most beautiful Romanesque basilicas in Italy
The Basilica di San Zeno Maggiore is one of the most beautiful Romanesque basilicas in Italy. It was created under the direction of Pippin, son of Charlemagne, on the ruins of an ancient Benedictine monastery. It is dedicated to the former Bishop and patron saint of Verona, San Zeno. The basilica was completed in 1138, and on its outer façade you can see Veronese engineering typical for the period, which mixed different coloured building materials. Under the beautiful rose window you enter the basilica through a bronze door which is framed with magnificent reliefs by the Master Nicolò which immortalise a number of famous scenes from Genesis and the Bible.
The outdoor area of the basilica includes a beautiful Romanesque bell tower and a crenelated defence tower. The adjoining cloister is supported by double columns and contains many graves.
The interior of San Zeno Maggiore
If you enter the three-aisled basilica, the eye is immediately drawn to the impressive chorus of the crypt. You can reach the high church and choir via a staircase that is located in the nave. Left and right of the main entrance are two baptismal fonts whose sandstone basin dates from the second century and was originally located in a Roman bath house. The highlight of the Basilica di San Zeno Maggiore is the famous triptych in the main Gothic chapel. It was created by Andrea Mantegna in 1459 and shows Maria. It is surely one of the masterpieces of Northern Italian Renaissance. Many other paintings were looted by Napoleon and can be admired in the Louvre in Paris today.
You can find the most important fresco in the north-western part of the church, "The Crucifixion" by Altichiero from the 14th century. Just behind the high altar on the left-hand side in the apse you can see the smiling statue of Saint San Zeno. It is made of black marble, which symbolises the supposed the saint's supposed African origins. San Zeno's sarcophagus is in the open crypt. The crypt appears to the visitor like a huge portico and it contains many old frescoes and a modern painting of the crucifixion.
Opening hours
Monday 9:00 | 18:00
Tuesday 9:00 | 18:00
Wednesday 9:00 | 18:00
Thursday 9:00 | 18:00
Friday 9:00 | 18:00
Saturday 9:00 | 18:00
Sunday 13:00 | 18:00
Discounts
free admission with VeronaCard