VITRARIA
Museum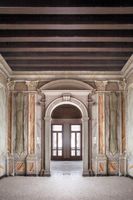 Inside the palace
VITRARIA Glass +A Museum
Contemporary art museum
A stunning 16th century Palazzo near Zattere, just a few steps from Accademia Bridge in the southern part of Dorsoduro, is the permanent home of VITRARIA GLASS +A MUSEUM.
The vision of VITRARIA GLASS +A MUSEUM is glass viewed in its entirety. The museum seeks to facilitate an atmosphere of participation by creating and offering a vivid intersection for artists, designers, collectors, visionaries, and art lovers from all over the world. A place to break free from artificial patterns, to foster knowledge, support talent, and let new ideas, relationships, and business grow, within and even beyond the museums walls.
Palazzo Barbarigo Nani Mocenigo is not only the home of VITRARIA GLASS +A MUSEUM, but also the venue for the brand and the starting point for new developments. Its the first of various platforms to experience and discover the world of glass in its most unexpected forms. That is why VITRARIA is always a GLASS +A platform.
Opening hours
Monday 10:00-17:00 |
Tuesday 10:00-17:00 |
Wednesday 10:00-17:00 |
Thursday 10:00-17:00 |
Friday 10:00-17:00 |
Saturday 10:00-17:00 |
Sunday 10:00-17:00 |
Discounts
Groups (min. 3 persons) & students up to 25 years: € 7,00
Children up to 16 years: free of charge
Closed on December, 25th, and January, 1st
Accessibility
Landing stage: Accademia or Zattere