Lido di Venezia
Island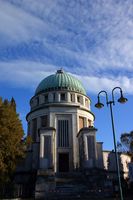 San Nicolò
Lido di Venezia
Classy resort and film festival backdrop
After the Franks drove the Venetians from the Lido and forced them onto the islands of present-day Venice, the 12-kilometre-long strip of land served mainly as a barrier against the sea. It was not until the 19th century that Lido was rediscovered, in manner of speaker. The long, flat sandy beaches were perfect for swimming and strolling, and at the beginning of the 20th century Lido instantly became the most sought-after and elegant seaside resort in Europe. Even today Lido still attracts tourists and locals to its beaches, despite fierce competition from the Adriatic. While the majority of the beaches are owned by the many high-class hotels, a small public beach and numerous sports facilities still offer a varied programme.
Attractions in Lido
On Lido itself there isn't that much worth seeing. Those who are familiar with Thomas Mann's novella "Death in Venice" will recognise the Hotel Des Bains as the backdrop to the film of the book. Nevertheless, the Church of San Nicolò, situated in the north of Lido shortly after the ferry port, is worth a short walk. The baroque church is dedicated to St. Nicholas and is believed to house his bones which Venetian sailors stole from the cathedral of Myra. Later it turned out that grave robbers from the Puglia Bari had pre-empted the Venetians. Up until 1797 the Venetian Doge went out here every year to throw a ring into the sea to renew Venice's marriage to the sea.
Venice Film Festival
Lido not only served as the setting for Luchino Visconti's film "Death in Venice" by Thomas Mann – it has also played host to the Venice Film Festival since 1932. Every year in late August and early September the famous Golden Lion (Leone d'Oro Premio di San Marco) is awarded here. This Italian Oscar is awarded annually to the best films and actors. During the festival, film screenings take place in the Palazzo del Cinema and celebrities from all over the world hang out in Venice in order to receive this prestigious film award.
Accessibility
Ferry from Venice