Santo Stefano
Church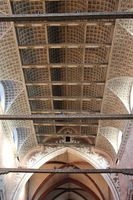 Wood ceiling
Santo Stefano
Augustinian church as burial ground for the Doges
From the outside the leaning bell tower of the brick church immediately catches the eye. Santo Stefano was built in the 15th century by Augustinian monks. Seeing the extraordinary vaulted ceiling in the interior is quite something. The beautiful coffered wood ceiling has the shape of an inverted ship's hull. In the sacristy there are also three paintings by Tintoretto and one by Bartolomeo Vivarini. The tomb of Doge Francesco Morosoni (1688-1694) in the nave deserves special attention. He achieved the re-conquest of the Peloponnese and numerous victories against the Turks. Left of the altar is the grave of the Baroque composer Giovanni Gabrieli (1557-1612), who worked as organist at the Basilica di San Marco.
In front of Santo Stefano
Outside the church, the Campo Francesco Morosini has some beautiful buildings. To the east is the long Loredan palace from the 16th century, which is located by the square. Opposite is the Palazzo Morosini Gatterburg. The palace was the residence of the Doge Francesco Morosini. Even from the outside the importance of the Doge during the Turkish wars can be seen from the magnificent portal decoration. In the middle of the square there is the monument to the writer Niccolò Tommaseo (1802-1874). At the southern end of the Campos is the beautiful Baroque palace Pisani. It is now the seat of Music Conservatory "Benedetto Marcello". Opposite the Palazzo Pisani is the small church of San Vidal, which is the seat of the Interpreti Veneziani and the location of many concerts.
Opening hours
Monday 10:00-17:00 |
Tuesday 10:00-17:00 |
Wednesday 10:00-17:00 |
Thursday 10:00-17:00 |
Friday 10:00-17:00 |
Saturday 10:00-17:00 |
Sunday |
Discounts
free entrance with chorus pass
Accessibility
Landing stage: Accademia