Portogruaro & Concordia Sagittaria
Place of Interest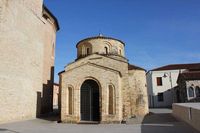 Roman Baptistery
Portogruaro
Beautiful historic town in eastern Veneto
In the eastern corner of Veneto, near the border with Friuli-Venezia Giulia, you will find the small town of Portogruaro. Back in Roman times two military roads crossed here and favoured the development of a busy commercial town. The beautiful historical city centre with its medieval buildings and beautiful places is worth a visit and a city walk. Holidaymakers from the nearby resorts of Caorle, Bibione and Lignano often take the opportunity to pay this nice little town a visit, especially in summer.
Attractions in Portogruaro
Portogruaro is connected by channels to the Lagoon of Venice. The historic centre can be reached through one of three well-preserved city gates – Porta San Gottardo, Sant'Agnese Porta and Porta San Giovanni. The historic old town itself is located within the city walls surrounding the channel and the two main streets Corso Martiri della Libertà and Via Seminario. Here you will also find numerous palaces dating from the Middle Ages and the Renaissance. An eye-catching highlight is the Gothic Palazzo Municipale with dovetail-battlements and external staircase and the great cathedral with its leaning bell tower. It is really idyllic just behind the cathedral on the canal. The small fishermen's chapel Oratorio della Pescheria and two old mills inspire visitors during a stroll through this picturesque part of town. The Archaeological Museum in Via Seminario, which houses Roman findings mainly from the ancient Concordia Sagittaria, is also extremely interesting.
Surroundings of ​​Portogruaro
A few miles south of Portogruaro is the small town of Concordia Sagittaria right on the Lè Mene river. This inconspicuous little town is home to some remarkable sights to be visited in transit. Little remains of the ancient Roman military base except for its name (Sagitta = arrow). The findings from the excavations can be seen in Portogruaro. Right in the centre stands an imposing cathedral from the 15th century which features numerous columns, sculptures and sarcophagi from the Roman era. Next to it there is a Romanesque baptistery which is shaped like a Greek cross and is painted inside with beautiful medieval frescoes. But the real highlight is hidden in the main square – the excavation of an early Christian Basilica Apostolorum from the 4th century, which is a must-see.