Murano
Island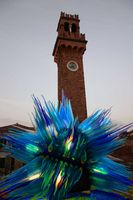 Art work of glass
Murano
The island of glassmakers
Murano has ever been the centre of Venetian glassmaking. While the knowledge about glassmaking disappeared after the fall of the Roman Empire in Europe, resourceful Venetian merchants brought this know-how from the Byzantine Empire back to the lagoon city. So Venice rose to become the cradle of European glass production and was able to sell its glass products throughout Europe profitably. For fire safety reasons and because they wanted to keep the art of glassmaking secret, the glass factories were moved to the nearby but much less frequented island of Murano, where glass has been the main product since the 13th century. In the 18th century Venice had to give up its dominant position in glass production and the importance of Murano declined until the emergence of tourism.
Sightseeing on Murano
If you walk along the two main channels on arrival, you will pass one glass factory or glass shop after the other. Even today, Murano lives primarily from the production of glass, which attracts numerous tourists. Murano glass is available in all colours, shapes and variations. Even those who have no intention to buy anything should have a look at the beautiful window displays – it's worth it! By the way, there is a glass museum in the Palazzo Giustiniani. Here you can see one of the largest collections of Venetian glass and learn about the history of glass production since Roman times. In the church of San Pietro Martire you can admire "Madonna Enthroned" by Giovanni Bellini, as well as some paintings by Veronese.
Basilica di Santi Maria e Donato on Murano
In addition to the glass, Murano's main attraction and one of the oldest churches in the entire lagoon is the Basilica di Santi Maria e Donato. It originates from the 7th century and inspires visitors with its beautiful exterior combining Venetian, Byzantine and early Romanesque elements. The beautiful mosaic floor, which runs through the three-nave interior of the church, seems almost like an oriental rug with lots of figures of animals and colourful shapes. Also worthy of note are the high Mother of God in the choral conch and the relics of St. Donatus on the altar. The painted relief icon of St. Donatus is one of the oldest examples of Venetian painting.
Accessibility
Ferry from Venice