Risi e Bisi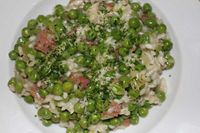 Peas and rice
Risi e Bisi
Peas and rice from Veneto
One of the most typical rice dishes of Veneto. Risi e Bisi – Peas and rice in a meat broth. A delicious dish which definitely should be tried.
Ingredients (4 servings):
300 g short grain rice
2 onions
100 g Parma ham (or San Daniele)
1½ kg new peas (preferably fresh, frozen will work if fresh are not available)
1 litre beef stock
Parsley
Butter
Parmesan
Salt
Pepper
Preparation time:
45 minutes
Preparation:
Dice the onion and cut the ham into thin, short strips. Chop the parsley finely and wash the peas.
Heat one tablespoon butter and some oil in a pan and stir in the onions and the ham. Add the peas and sauté gentlyfor 5 minutes. Add two ladles of stock and put the rice into the pan. Add two more ladles of stock and cook it over medium heat until the liquid boils. Stir again and again and add stock as necessary until the rice is soft.
Once the rice is done, season with salt and pepper, stir in 2 tablespoons butter and 3 tablespoons Parmesan cheese and some extra stock and let it stand for several minutes. Sprinkle the Risi e Bisi with parsley and serve it hot.