Risotto al nero di seppie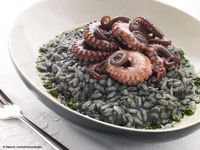 Risotto al nero di seppie
Risotto al nero di seppie
Risotto with black squid sauce
This traditional rice dish with a sauce of black squid ink is a highlight for many visitors during their Veneto trip.
Ingredients (4 servings):
400 g risotto rice (Carnaoli rice, Avorio rice, or Vialone rice)
1kg squid
2 teaspoons sepia ink
1 litre canned fish stock (or hot fish broth)
200 ml white wine
1 onion
2 garlic cloves
25 g butter
Salt
Pepper
Parsley
Olive oil
Preparation:
Clean the squid and cut it into strips; chop the garlic and the onions finely. Put the onions and the garlic in a pan with olive oil, heat them, then add the squid and fry briefly. Add risotto rice, braise for a short time, then deglaze with white wine.
Add the sepia ink and simmer briefly. Gradually add fish stock until the rice is cooked. Season with salt and pepper, stir in butter and sprinkle with parsley before serving.