Polenta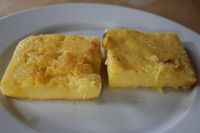 Popular side dish
Polenta
Foundation of Venetian cuisine
Polenta is one of the staples of Venetian cuisine. The white or yellow corn cake is served with many meals as side dish and can be easily prepared in many different ways.
Ingredients (4 servings):
1 litre of water
250 g cornmeal
1 teaspoon salt
50 g parmesan cheese (freshly grated)
Preparation time:
1 hour 15 minutes
Preparation:
Pour the water into a pot and add salt after it has started to boil. Reduce the heat after boiling, and add the cornmeal while stirring constantly. Cover the pot and let it simmer for 10 minutes on low heat. Remove the pot from the heat, stir in the parmesan and let it sit for about 15 minutes.
The polenta is now ready to serve. For the polenta cake, pour the hot polenta onto a baking sheet, let it cool down and cut it into the desired shape. Fry the polenta pieces in hot olive oil until golden brown.
Variations:
To make creamy polenta, use 500 ml water and 500 ml milk instead of pure water. If you use vegetable broth instead of the water, the polenta is a little spicier. Try a further variant by adding some butter.