Crostini al Radicchio Trevisano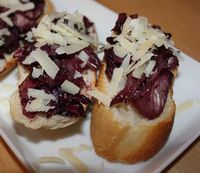 Italian snack
Crostini al radicchio Trevisano
Crostini with radicchio from Treviso
A regional specialty from the Treviso area. Suitable as a small snack or as a classic Italian antipasti-appetizer.
Ingredients (20 crostini):
200g radicchio leaves
1 onion
3 tablespoons olive oil
50ml red wine
Salt
Pepper
Parsley
Parmesan
20 baguette slices
Preparationtime:
max. 30 minutes
Preparation:
Cut the radicchio into thin strips, chop the onion and the parsley and grate the Parmesan. Sauté the onion and the radicchio in hot oil and deglaze with red wine. Add salt and pepper and stir, making sure that that the liquid doesn't boil away completely. Mix the parsley into the dish and spread it on the baguette slices.
Bake the baguettes in a preheated oven at 220° for about 6 minutes, sprinkle them with Parmesan and serve them.