Muggia
Place of Interest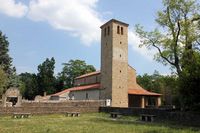 Santuario di Santa Maria Assunta
Muggia
Coastal town at the Slovenian border
Muggia is the last town before the Slovenian border. It is located on the Istrian peninsula directly across from Trieste. Compared with the bustling city, Muggia, however, offers an attractive contrast with its beautiful historic city centre with city walls and town gate. Many fishing boats crowd into the quiet little port, and the sea promenade faces directly onto the industrial zone of Trieste – a less than idyllic sight which has a certain charm only at night. Right in the centre stands the Gothic Duomo dei SS Giovanno e Paolo. The imposing facade with Trinity Relief and magnificent rose dominate the cityscape. Opposite the cathedral at the Piazza Marconi is the Palazzo Comunale Giuglielmo with its arcades. The Venetian lion relief on its outer wall still testifies to the rule of Doge's republic of Venice. The old castle, which towers above Muggia, is closed but offers a beautiful view over the Gulf of Trieste.
Surroundings of Muggia – Santuario di Santa Maria Assunta
High above Muggia on a small hill are the ruins of ancient Muggia Vecchia. In a well-marked and interesting archaeological park you can view the excavations of the medieval settlement and get a good idea of what the former settlement was like. The highlight of the park is the Romanesque pilgrimage church of Santa Maria Assunta. Surrounded by medieval ruins, it is the only intact building and is still well preserved. Inside there are beautiful coloured frescoes, a picturesque pulpit, a marble lectern and some early medieval ornaments – a trip that is definitely worth doing, and not least because of the magnificent panorama.