Marano Lagunare
Place of Interest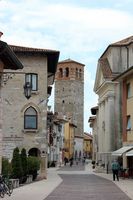 Medieval town centre
Marano Lagunare
The northernmost part of the Mediterranean Sea
The lagoon of Marano is the largest lagoon in Friuli-Venezia Giulia and at the same time the northernmost part of the entire Mediterranean. Almost one seventh of the lagoon consists of nature reserves to protect the local flora and fauna. The only settlement along the lagoon coast is the town of Marano Lagunare. The small village not only has the largest fishing fleet in Friuli, but also the largest fish market in the region. Marano Luganare was settled by the Romans and was a fortified base in the days of the Doge's Republic of Venice. Today the village is not only a holiday destination but still plays an important role in the processing of tuna.
Attractions in Marano Lagunare and surroundings
The centre of Marano Luganare looks particularly friendly and homely. Many cafes and beautiful old buildings make the Piazza Vittorio Emanuele II a particularly pleasant spot. Here you can also find the landmark of the village – the Torre millenaria – an old clock tower. It is still adorned with the coat of arms of Venetian domination. From the Palazzo dei Provveditori the Venetians ruled Marano and the surrounding region. A few steps further from the main square you can reach the beautiful harbour and the large natural reserve of Valle Canal Novo. Nature lovers in particular will enjoy a lovely stroll through the beautiful countryside. With organised boat tours you can visit the Foci dello Stella nature reserve and the islands that separate the lagoon from the open sea.