Duino
Castle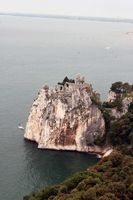 Castello Vecchio
Duino
Along the Riviera Triestina
The coast around Duino and the Riviera Triestina differs markedly from the long sandy beaches of Grado and the Gulf of Venice. White limestone cliffs fall steeply into the sea and there only a few real beaches. Even more beautiful are the narrow coastal roads which run from Trieste to Duino. Duino itself has a beautiful little port with some restaurants and a small pebble beach and the small town is surrounded by a picturesque cliff. High up on the cliffs stands the magnificent Castello di Duino, which is owned by the Thurn and Taxis family.
The Castello di Duino
The highlight of Duino is without doubt the beautiful Castello di Duino, perched high above the little town. It is still owned by the Italian branch of the Thurn and Taxis family and is now mainly used for international conferences. Some of the most famous poets of Europe once congregated here, and it was also here that Rainer Maria Rilke was inspired to write his "Duino Elegies". Just as impressive as the castle's history is the building itself: a tour through the building and the park should therefore not be missed. Numerous beautiful oil paintings, tapestries, antique furniture and some documents and photos can be admired and give a good impression of the castle's prosperity from the late 19th to the early 20th century. Aside from the beauty of the castle, you can enjoy a magnificent view above the sea.
Surroundings of Duino
Not far from the Castello di Duino stand the ruins of the Castello Vecchio from the 11th century. The fort was destroyed during fighting between the Venetians and Turks and was never rebuilt. Below the ruins is a white rock that supposedly has the shape of a woman – Dama bianca (white lady) is its name. Dante Alighieri is reputed to have stopped here to write a few lines – the exposed ridge between the two fortresses is therefore named after him.
Entrance
Castello di Duino: € 7,-
Castello Vecchio: € 3,-