San Benedetto
Church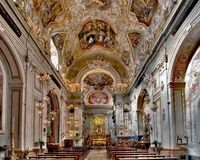 Inside the Benedictine church
San Benedetto
Baroque Benedictine church along the Via dei Crociferi
Directly on the Via dei Crociferi is one of the most important Baroque churches in Catania: the Chiesa di San Benedetto. It was built between 1704 and 1713 in the Sicilian Baroque style and was the church of the Benedictines. The Saint Benedict Church is part of a prestigious monumental complex and it is one of the most beautiful churches in Baroque style in Europe. The church was amazingly frescoed just in three years, from 1726 to 1729, by a single painter named Giovanni Tuccari and born in Messina. Because of his skilled rapidity, he was defined the lightening of painting. Inside the church it's likewise important to mention the altar (entirely realized in diaspro - a river stone - and preciously inlayed in pure gold and silver), the cantoria (a special elevated place where still nowadays it's possible to listen to the harmonious choir of the nuns of seclusion) and the monumental Staircase of the Angels which brings to the main entrance of the church. As much striking as the rest are the grates, commonly named gelosie, which characterize the history of this place and the sacred intimacy of nuns.
According to popular legend, the church of the Benedictines is connected to the Benedictine monastery of San Nicolo by a secret underground passage, which was supposed to have been used by the monks for forbidden love visits at night.
Historical Site Monastero San Benedetto
The Monastery of Saint Benedict, situated in via Crociferi - considered part of the human heritage of Unesco - is one of the artistic symbols of Catania. It is commonly identifiable by the eighteenth century arch which spreads over the street and unites the Monastery's main abbey to the little one, wherein today the MacS – Museum of Contemporary Art Sicily – has its place. Today it's finally possible to overstep the main entry of the Monastery, which was initially erected in 1350 and then built back again on its original ruins during the first years of the XVIII century, after the earthquake of 1693.
Along the centuries the Monastery holds a life of seclusion in it which has inspired famous national writers and movie directors. This place in fact and its street became the set both of the novel Storia di una capinera, written by the nationally eminent writer Giovanni Verga, and its homonymous movie directed by Franco Zeffirelli.
Entrance
€ 5,- (Audioguide in Italian, English, French, German, Spanish)
Opening hours
Monday 10:00-19:00 |
Tuesday 10:00-19:00 |
Wednesday 10:00-19:00 |
Thursday | closed
Friday 10:00-19:00 |
Saturday 10:00-19:00 |
Sunday 10:00-19:00 |
Discounts
Children and young people up to 18 years: € 3.50,-
Opening hours in winter, October 1 through March 31:
09:00 - 18:00 (closed: Thursday)
Note: Visits on Sundays only after Mass