History of Catania
A varied history of a great city
Already settled very early, Catania alternately experienced flourishing times and total destruction under Greek rule. It was only under the Romans that the town flourished for the first time, as numerous excavations have proven. But what foreign nations did to the city in ancient times, the volcano Etna has managed to do from the Middle Ages to modern times. After numerous earthquakes and destruction by lava streams, the city was finally rebuilt in the 17th and 18th Century in its present form in black lava rock.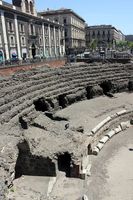 Amphitheatre
Catania's Greek era and Roman reign
The area of Catania was settled early by Sicels. In 729 B.C. Greeks from the nearby town of Naxos founded Katane, which flourished as a Greek trading town until the 5th Century B.C. The tyrant Hieron I of Syracuse moved the inhabitants of Katane to Leontinoi, named the town after the nearby volcano Aitne and settled more than 10,000 new settlers into the city. After Hieron's death, the original inhabitants moved up to the southern slope of Mount Etna again and returned to their city. After being destroyed by a lava flow and then rebuilt Dionysius I of Syracuse conquered the city, enslaved the population and settled Campanian soldiers in Katane.
The city flourished again thanks to the fertile volcanic soil which aided agriculture. Under the Romans Catania was a Civitas decumana and part of the Roman province Sicilia. Many buildings such as the Roman theatre, the amphitheatre and the baths bear witness to the blossoming of the city under the Roman Empire.
Castello Ursino
Catania in the Middle Ages: Prosperity, earthquakes and plague
During the Byzantine and Arab rule, Catania lost its importance and was outstripped by other Sicilian cities like Palermo and Syracuse. Fortune was less than favourable to Catania over the course of history. Although it came to prominence as a commercial and maritime centre under the Normans again, the earthquake of 1169 with 15,000 deaths and the devastation caused by Emperor Henry VI of Hohenstaufen in 1194 led to tough times yet again for the city. It was not until 1434 that Catania gained importance again thanks to the establishment of the university, the oldest in Sicily and one of the oldest in Italy, by the Spanish House of Aragon and became the second largest city in Sicily.
Destruction of Catania 1669/1693 and history to the present day
The late 16th and 17th Century saw some significant developments in the history of Catania. In 1576 a major part of the population died due to the plague; in 1669 a lava flow destroyed the western part of the city; and, in 1693 a heavy earthquake destroyed the rest of Catania. Catania's present day appearance is thanks to its reconstruction in the 18th Century, following the designs by Giovanni Battista Vaccarini. Even if the dark lava stone often seems gloomy, the city pulsates with life today and many young people, students and tourists cavort in the streets.