Riviera of the Cyclops
Fabled coastal region north of Catania
Almost no other region of Italy is the subject of so many legends and myths as Sicily. The east coast around Catania in particular, where the first ancient Greeks landed, offers a wealth of mythical stories and legends that make staying in this legendary region really exciting. This includes the Riviera of the Cyclops, the bizarre Cyclops rocks in front of Aci Trezza, as well as the history of the river Akis.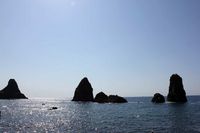 Cyclops rocks
Mystical Cyclops rocks in front of the coast of Catania
The Isole dei Cyclopi, the Cyclops islands in front of Aci Trezza along the Riviera dei Cyclopi, have their mythical origins in the Odyssey. It was here that the one-eyed Cyclopes once lived, one of whom was Polyphemus, who was the son of the sea god Poseidon and who caught Odysseus and his companions and ate them one by one. Odysseus, however, succeeded in blinding the Cyclops and escaped. In anger the now-blind Polyphemus threw huge rocks at Odysseus who managed to escape into the sea without being struck. These Cyclopes rocks, the Isole dei Cyclopi, still rise in the sea in front of Aci Trezza and gave the entire coastal region its current name.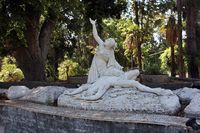 Aci and Galathea
Acis and Galathea – namesakes of a whole region
The names of the individual towns along the Riviera of the Cyclops - Aci Castello, Aci Trezza, Acireale, Aci Filippo, ... - are all of mythological origin. Again, the Cyclops Polyphemus played a crucial role when, out of jealousy, he turned the young man Acis, the lover of the Nereid Galathea, into the river Acis. This river still flows today through the many villages along the coast and gives them all their current names. A sculpture of Acis and Galathea can be admired in the park of the Villa Belvedere in Acireale. The Marine Biological Institute of the University of Catania is located nowadays on the Isola di Aci - the largest rock that Polyphemus threw.