Acireale
Place of Interest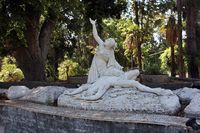 Aci and Galathea
Acireale
Port city on the Riviera, the Cyclops
Acireale was founded in 731 BC as the Greek colony Xiphonia and has been inhabited continuously up to the present day. Acireale was also destroyed by the earthquake in 1693 and rebuilt. The many baroque buildings bear witness to the extensive reconstruction work, especially around the Piazza del Duomo. Today, Acireale is especially known for its puppet theatre, carnival and a nativity scene in a lava cave. The favourable location along the Riviera dei Cyclopi and the excellent ice and granite bars in the centre also make it well worth a visit.
Attractions in Acireale
The Cathedral Square is the centre and, at the same time, the highlight of Acireale. It is dominated by an imposing neo-Gothic cathedral with a baroque facade. Inside you can admire a meridian and the silver statue of the patron saint of Santa Venera in the homonymous chapel of Santa Venera. Right next to the cathedral stands the Chiesa dei Santi Pietro e Paolo from the 18th Century and the Baroque Palazzo Comunale. A few steps further to the south you will find the church of San Sebastiano from the 17th Century with beautiful interior frescoes by Pietro Paolo Vasta. Art lovers should by all means visit the important coin collection in the Palazzo Pennisi di Floristella and the Pinacoteca dell'Accademia Zelantea.
Other attractions around Acireale
There is a wonderful view of Mount Etna, the sea and the coast of the Riviera of the Cyclops from the Villa Belvedere in the north of the town. In the adjoining park you can also admire the sculpture of Acis and Galathea. Right on the coast, in Santa Maria la Scala, there is a lava cave, where you can admire a crib with life-size figures made of wood and wax at Christmas time.