Cathedral of Sant'Agata
Cathedral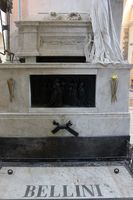 Tomb of Bellini
Cathedral of Sant'Agata
Magnificent church in Catania
The cathedral of Sant'Agata was built over the Roman Baths of Achilles at the very point where the holy martyr Agatha died in 251. The Normans began with the construction of the first cathedral in 1090 which was restored after the earthquakes 1140 and 1169 and finally completely reconstructed from scratch after the great earthquake of 1693. The architects Girolamo Palazzotto and Giovanni Battista Vaccarini, who designed the façade of the cathedral, were responsible for the construction in the Sicilian Baroque.
The architecture of the cathedral of Sant'Agata
The cathedral of Sant'Agata consists of a three-nave longitudinal building with a transept and three Norman apses made of lava rock. The apses were stripped of their baroque decorations in the 20th Century so that you can take a look at the original construction of the Norman cathedral. While Girolamo Palazzoto was responsible for the construction of the cathedral, G.B. Vaccarini completed the façade in the style of Sicilian Baroque in 1736. He used six ancient pillars which already adorned the ruined Norman cathedral.
Inside the cathedral
The interior of the cathedral is equipped as the pantheon of Catania and is imposing in its proportions and dimensions. On the second pillar on the right there is the simple grave of the famous composer and citizen of Catania, Vincenzo Bellini. Also noteworthy is the right transept where you will find the Chapel of the Madonna with numerous graves of Aragonese kings and two sarcophagi - Constance of Aragon, the wife of Frederick III, is buried in one of them. The city's patron saint is venerated in the right apse of the adjoining Chapel of Sant'Agata. The life of St. Agatha is also the subject of the carvings in the choir stalls in the chancel. Here you can also find more tombs of the Aragonese kings of Sicily. Also worth seeing in the sacristy is the portrayal of the Mount Etna eruption in 1669. In the fresco, which was painted by an eyewitness of the disaster, you can see Etna, the city and the lava flow that reaches the Castello Ursino.