Bruschetta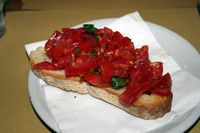 Typical Roman starter
Bruschetta
Famous Roman antipasti
Italian bruschetta is known throughout Italy as a starter and has its origins in Rome. Prepared in many different ways, it is a popular snack before meals or between meals.
Ingredients (4 people):
4 baguettes
6 cloves of garlic
olive oil
6-7 tomatoes, peeled and diced
salt
pepper
1 bunch of basil
Preparation time:
35 minutes
Preparation:
Finely chop the garlic and mix it with oil. Mix the tomatoes in a bowl with salt, pepper and the remaining olive oil. Separate the baguette rolls and grill them on both sides until they are crunchy. Take them off the grill and rub them with the oil-garlic mixture. Spread some tomato sauce on each slice, sprinkle with basil and serve warm immediately.