Attractions in Lazio
Highlights and places of interest in Lazio
Lazio has a lot of scenic highlights to offer its visitors. Rugged limestone mountains, romantic gorges and volcanic lakes, vast plains and spacious coasts But the region, with its capital Rome, also offers a wealth of fascinating attractions and highlights historically and culturally speaking. Whether on a tour through the Colosseum, seeing the fantastic frescoes in the Sistine Chapel, praying in the Vatican, visiting ancient Rome or the ancient harbour Ostia as well as in the famous monastery of Monte Cassino - the many attractions in Lazio are an inspiration for many millions of visitors.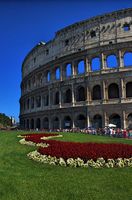 Colosseum in Rome
Rome - capital and historical treasure chest
The far most important city of Lazio is Rome. Italy's capital has had a long and prestigious history. Innumerable palaces, historic buildings, beautiful squares and ancient ruins are waiting everywhere in the city. This scene is completed by many churches, including the Vatican and the St. Peter's Basilica. If you are looking just for the main attractions, then you will find a seemingly endless list of famous buildings and attractions. The most important, however, are without a doubt the Colosseum, the Vatican with the Vatican Museums and the Sistine Chapel, as well as the ruins of ancient Rome. In addition to these major highlights, Rome offers a variety of idyllic locations, magnificent buildings and interesting museums that make visiting Italy's capital a must.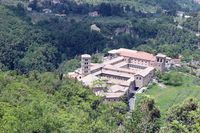 Santa Scolastica monastery
Highlights and attractions in Lazio
Supposedly less well known are the many attractions in the rest of Lazio. Idyllic volcanic lakes, romantic gorges, whole mountain ranges and coastal regions can be mentioned here as well as historical sites. Numerous monasteries, including the famous Abbey of Monte Cassino, and Castel Gandolfo, the oldest city in Lazio, are just waiting to be discovered, in addition to the provincial capitals Viterbo, Rieti, Latina and Frosinone.
All in all, Lazio has a lot of highlights to offer for all its guests and inspires young and old with its treasures.