Torbole
Water sports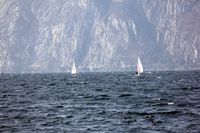 Sailors in front of Torbole
Torbole
Surfers paradise at the northern Lake Garda
Only the magnificent Monte Brione separates Torbole from Riva del Garda, which is also located at the northern shore of the lake. But despite being direct neighbours, Torbole has nothing in common with Riva. The town is rather plain and has little worth seeing. The beautiful Austrian customs house at the marina and the impressive Colonia Pavese are the only significant attractions. The latter is to be used for events and meetings in the future.
But what Torbole is missing in the way of attractive cultural goods, it can make up in sporting terms. The fantastic wind cycles in the Bay of Torbole were feared by sailors in the past – today they are an absolute highlight, especially for surfers. No wonder the place is firmly in hands of the surfers. You can find surf and biker schools everywhere, as well as numerous hotels, bars and pubs – Torbole is fully adjusted to its young audience.
Attractions around Torbole
Just north of Torbole is the picturesque mountain village of Nago. Its winding streets and old houses, including a beautiful parish church, are worth a short visit. The ruins of Castel Penede fit perfectly into the great cityscape. Formerly the road north of here was controlled from Nago – now it is a quiet village that invites visitors tot stroll through the old streets.