Brenzone
Place of Interest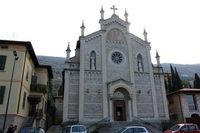 The nunnery
Brenzone
One town and 16 municipalities
Brenzone is really no village in the true sense. A total of 16 municipalities are crowded together here in a confined space under the Monte Baldo mountain range. Most of the small communities are inconspicuous and many do not even have their own port. The largest and also the most interesting town is Castelletto di Brenzone. It has a beautiful harbour and a small historic town which is worth a visit. Another interesting site is the convent of Sisters of the Istituto Piccole Sacra Familia. Here you will find a small museum that displays the living conditions of the population from the 19th to the 20th centuries.
Surroundings of Brenzone
Anyone who is interested in ancient history should not miss a visit to the Rocca dei Graffiti in Crero. The rock drawings there are more than 3,000 years old, making them the oldest prehistoric finds of the region. They can be reached via the village of Crero. There are four car parks at Trattoria Panoramico. From here trail 207 leads to the old petroglyphs. The drawings in the bedrock, however, are already very faded – so you must look for them a little to find them.