Holidays at Lake Garda
Sports paradise and beautiful natural landscape
The Lake Garda has held a magnet-like attraction for countless visitors for decades. Above all, the vast number of sports activities delight visitors year after year. But Lake Garda is also a dream lake for swimming – not to mention the beautiful natural scenery surrounding it. The largest lake in Italy offers both to its visitors. Visitors who are not interested in doing an excessive number of sports can visit one of the many markets or even make a short trip to Verona, Brescia and Trento, which are located not far from the lake. A holiday on Lake Garda promises action, fun and relaxation.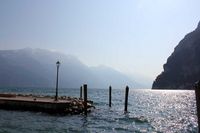 Surfers and sailors paradise
Holidays at Lake Garda – Italy's largest lake
Lake Garda is not only Italy's largest lake but is also one of the country's major tourist magnets. More than two million visitors – mostly from Germany – spend their holidays at Lake Garda. The numerous sporting facilities in addition to the magnificent scenery and the typical Italian flair are the main reasons for going on a trip to Lake Garda. Surfers and sailors in particular enjoy the almost guaranteed wind at the lake. Riding also has a long tradition, and mountain bikers and hikers can enjoy themselves in the hills around the lake. The lake's benefits were discovered many hundreds of years ago, which is probably a reason why it is so popular today.
Holidays at Lake Garda: Relaxation and varied activities
No other region has such a wide range of holiday activities for its guests as Lake Garda. From a relaxing holiday spent swimming in the lake to outdoor experiences and attractions in the region and culturally interesting excursions to Verona, Brescia and Trento – Lake Garda has it all. Despite the many visitors that spend their holidays around the lake every year, Lake Garda is still worth a visit, even if you're not a fan of sport. A short stroll through the nice small towns around the lake, a look at the beautiful scenery of the mountains and the typical Italian flair guarantee a perfect holiday feeling.