Geography & Economy
The largest lake in Italy – Lake Garda
Lake Garda is Italy's largest lake. It covers the three provinces of Verona, Trento and Brescia and has a shoreline of 160 kilometres. The lake was formed about 10,000 years ago during the last ice age. Since the 1950s the most important source of income for the local population has been tourism. More than two million guests annually stay in the resorts and hotels around the lake. Thanks to tourism the craft has regained importance in the last years.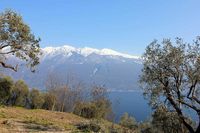 Monte Baldo
Political administration and geographical data
With a total area of 370 km2, Lake Garda is Italy's largest lake. At its deepest point it measures 246 metres, its narrowest point is 4 kilometres wide and its widest point measures 17.2 kilometres. The 160-kilometre-long shoreline runs through a total of three Italian provinces: Trentino in the north and Brescia and Verona in the west and in the east. Lombardy and Veneto and the Trentino-Alto Adige thus count parts of the lake among their territory. The formation of the lake dates back about 10,000 years to the last ice age when the glaciers in the Alps formed this area.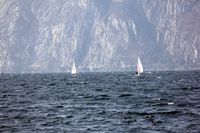 Sailors in front of Torbole
Lake Garda in Italy: The economic basis
The undisputed economic driving force of the Lake Garda region is tourism. The holiday business has been booming since the 1950s – like everywhere in northern Italy. However, the lake with over two million guests each year is one of the top destinations in Italy. Half of the tourists coming here are from Germany. Thanks to tourism, arts and crafts in the villages around the lake have regained in importance. At the local markets you can find wood carvings, leather goods and pottery. The agricultural sector should also be mentioned. In addition to fruit and olives, the wines of the region around the lake are fairly well known all over Europe. One of the best-known wines is undoubtedly the Bardolino, which thrives in the hinterland of the east bank.