Peschiera del Garda
Place of Interest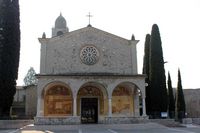 Madonna del Frassino
Peschiera del Garda
Small town along the Minico river
Peschiera del Garda is situated right on the river Minico, the only outlet of Lake Garda. The small town's particular location explains why it acquired strategic importance early on. Upgraded and heavily armed, the city defended the estuary under their respective rulers. Napoleon surrounded Peschiera with a massive city wall, which was again reinforced by the Austrians. No wonder that Peschiera del Garda today looks like an impregnable fortress. However, the bulwark no longer has the deterrent effect that it once had. The already partially decayed plant-covered walls have almost a touch of romance. It is worth taking a stroll through the lively and beautiful city.
Surroundings of Peschiera del Garda
South of Peschiera the pilgrimage church of Madonna del Frassino is worth a little visit. In addition to the beautiful church, the fun and action park areas around Peschiera dominate the scene. The Acqua Altominico Park with its numerous pools and slides, CanevaWorld, which also offers water fun and a lot of entertainment and action and, of course, the most famous entertainment park – Gardaland.