Desenzano del Garda
Place of Interest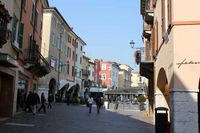 Beautiful city centre
Desenzano del Garda
The largest city at Lake Garda
Desenzano is the largest city on the banks of Lake Garda. Nevertheless it is relatively unknown as a tourist destination. The reasons for this are probably the lack of beaches and the city's lack of image as a tourist destination. But Desenzano has a lot to offer its visitors. In recent years it has invested heavily in the promenade so you can now enjoy a comfortable stroll along the lake. Desenzano was an important city back in Roman times and its historical wealth can still be seen everywhere in the city. The beautiful historic town with beautiful arcades, galleries, squares and many fine shops invites you to stroll and linger. The Italians in particular storm Desenzano on the weekends and populate the Promenade, Old Town and harbour. Anyone planning a trip to Desenzano on these days should arrive early enough to look for a parking space or switch to public transport.
Attractions in Desenzano
In the middle of the medieval streets of the Old Town is the Castle of Desenzano. It dates back to the 10th century and today consists only of the outer ring of walls and the towers. Nevertheless it is still worth a visit as you have a beautiful view over the city and Lake Garda from here. Besides the fort, you should also visit the Cathedral of Santa Maria Maddalena. It was built by Giulio Todeschini and is richly decorated inside. While in the Chapel of the Holy Sacrament, you should pay particular attention to a piece by Giambattista Tiepolo, "The Last Supper". Just behind the cathedral are the remains of the Villa Romana from the Roman era. The villa which is excavated here is the most important of its kind in northern Italy and features exquisite floor mosaics. A special feature of the mosaics are the naked and winged servants of Amor, the god of love, which appear again and again in the artwork and illustrations.