Monte Baldo
Mountaineering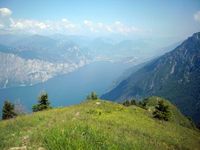 View to Riva del Garda
Monte Baldo
The highest peak around the Lake Garda
The Monte Baldo is the highest mountain around the lake. With peaks of 2,000 metres, it dominates more than half of the entire eastern shore. It is therefore not surprising that the Monte Baldo is one of the most popular areas for sports and nature lovers of all kinds. Walkers, hikers, mountain bikers and paragliders appreciate the advantages of the mountain. Right in the centre of Malcesine there is a cable car that takes you up to the summit in around ten minutes. From the peak or also from the central station, numerous great biking and hiking trails lead through the Monte Baldo mountain range. Service areas and huts on the mountain provide refreshments.
Strada Panoramica and nature parks
The Strada Panoramica (= panorama street) leading over the Monte Baldo is certainly a highlight for riders and drivers. From Mori in the Adige valley it runs in numerous switchbacks up to the famous Bocca di Navene view point. From here you can either go down to Brenzone or Torri del Benacor. In any case, you should take a good day to enjoy the tour properly.
The Monte Baldo has much more than sports and beautiful mountain vistas to offer. It is especially famous for its fascinating world of flowers. As it was the only summit in the region that wasn't covered by snow during the ice age, it teems with unique flora with many species of flowers. In the Corna Piana and Orto Botanico del Monte Baldo nature parks you can admire many of these rare flowers, such as gentian, Soon Sische scabious, devil's claw, wood anemone, globe flowers and many more. While hiking and walking, however, you may find some of the unusual flowers too – please keep in mind that many of the flowers are strictly protected!