Sirmione
Place of Interest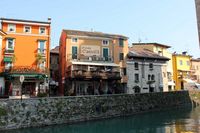 Medieval townscape
Sirmione
Medieval jewel at Lake Garda
Sirmione lives up to its special location on the four-mile peninsula at Lake Garda: a romantic, medieval gem with a distinctive flair. Narrow winding streets, old houses, a beautiful historic centre and a mighty castle of the Scaliger family. Although Sirmione is afflicted annually by veritable hordes of tourists, the old town is relatively quiet. The main reason for that is that most hotels are on the road along the peninsula and only a few accommodations are located in the historic centre itself. Even in the evening most tourists spend their time in the area around the Piazza Carduzzi and walk only rarely in the back part of the beautiful old town.
Castello degli Scaligeri
Besides the beautiful historic town centre, the Castello degli Scaligeri is of course the main attraction of Sirmione. The imposing castle from the 13th century is one of the most important moated castles across Europe. The well-preserved castle with its walls, towers and drawbridges is the highlight in the small town and attracts many visitors. Apart from the impressive appearance and the unusual character of the castle, however, it has little to offer. You should definitely visit the 30-metre-high main tower – a magnificent view over Sirmione and Lake Garda are compensation for the exhausting climb.
Attractions in Sirmione
Behind the fortress in the relatively unspoiled old town is the church of Santa Maria Maggiore. Interesting features worth seeing include the marble altar, the organ case and an oil painting by Paolo Farinati, a student of Paolo Veronese. The Romanesque church of San Pietro in Mavino is situated at the tip of the peninsula and was originally built in the 8th century. Also at the outer tip of Sirmione are the caves of Catullus: a Roman spa complex in a 25,000-m2-large area. The term cave is misleading. In fact, it is a villa which allegedly belonged to the family of the famous poet Catullus. Arched windows, a hall and the Antiquarium (Hall of Antiquities) are still relatively well preserved. A small exhibition shows selected archaeological finds.
The chalk terraces of Sirmione
A geologically unique feature are the chalk terraces at the top of the peninsula of Sirmione. These consist of shallow calcareous plates, which are just below the water surface and a relic from the Ice Age. The chalk terraces offer an incomparable setting, particularly for romantics. The sunlight that hits the panels makes Lake Garda shimmer turquoise, and at sunset even purple.