Church of Franceso & Pinacotheca
Museum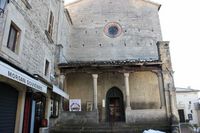 Chiesa di San Francesco
Church of St Francesco / museum and pinacotheca
San Marino's oldest church
The Church of St Francesco (Chiesa di San Francesco) is considered the oldest church of San Marino. An insignia on the entrance in Gothic letters indicates that the church was already under construction in 1361. Presumably, it was finished in the early 15th century. The original building, a monastery, was originally located in the district of Murata, but it was relocated in order to improve protection against the invading Malatesta. The Maestri Comacini used materials of the old monastery were used for the construction. A masoned rose window is located in the midst of the facade. The inside of the Church of St Francesco features, inter alia, a copper shrine by Romolo Mulazzani and pictures of saints by Ciro Parisa. The church got its current appearance in 1792.
Museum and pinacotheca
The museum with pinacotheca, the Museo-Pinacoteca San Francesco opened in 1966, is located in the cloister, where a collection of frescos and paintings from the 15th to 18th century on display, including "Saint Francesco", which Father Lodovico Gelli had painted by Guercino in 1646. Furthermore exhibited are works by Timoteo Viti and paintings from the schools of the Marches and Umbria. The monastic library is home to various codices, manuscripts plus several theological and philosophical writings from the 15th and 16th century.