Santarcangelo di Romagna
Place of Interest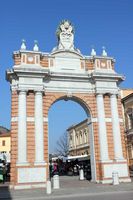 Santarcangelo di Romagna
Lovely town in Marecchia valley
The medieval town of Santarcangelo di Romagna is situated at the entrance to Marecchia valley only a few kilometres northwest of Rimini. Towering over the town, the mighty Rocca Malatestiana fortress is visible from afar. The winding, medieval historic centre is entered through a magnificent triumphal arc built in honour of Pope Clement XIV who was born here. Santarcangelo di Romagna was also home to the famous Italian screenwriter Tonino Guerra.
Sights in Santarcangelo di Romagna: Ruggeri tuff caves
Main attractions of this medieval town are more than 160 tuff caves that were embossed into Monte Giove on three levels. Many stories surround the origin and the role of these mysterious grottos. To this day it hasn't been worked out whether they are supposed to be cave churches, Mithras sanctuaries or just plain cellars. Visitation tickets are available at IAT tourism office in Via Cesare Battisti 5.
Old cloth printing press, Guerra fountain and ethnographic museum
In the old cloth printing press, Antica Stamperia Artigiana, cloth is still produced according to a technique that dates back to the 17th century. The cloths are smoothed by a wheel mangle of this period, and printed with wooden stamps and rust colours. It is possible to take a look into the workshop via the affiliated store and inform oneself about cloth production.
Santarcangelo's most famous screenwriter, Tonino Guerra, arranged for the construction of two fountains in the town. They are supposed to encourage abidance and communication. Worth seeing as well is the ethnographic museum "Museo degli Usi e Costumi della Gente di Romagna". Everyday culture, eating and drinking habits, and clothing of the Romagna people through the ages are well-presented here.