Federico Fellini
Rimini and its famous son
Federico Fellini won his first Academy Award in the category of "Best Foreign Language Film" for "La Strada" in 1954. He added three further awards in this category, where he is still holding the record, several nominations as "Best Director" and a golden "Lifetime Achievement" statue to his impressive résumé. Even though he mainly operated in Rome, Fellini returned for his movies to his native city of Rimini, where he is buried today, time and time again. Numerous institutions and works of art commemorate one of the city's most famous sons.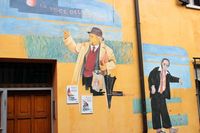 Tender beginnings and first setbacks
Federico Fellini was born on 20 January 1920 as the first of three children. He moved to Rome in 1939 to attend university and quickly established himself as a journalist and caricaturist while also contributing to musicals and radio drama. Additionally, he started working as a screenwriter. During those days, he met actress Giulietta Masina and married her in 1943. He was to be married to her until his death. Fellini's first films, however, were critical and financial failures. Eventually, "I Vitelloni" was awarded the Silver Lion and Venice and went on to become a box office success.
Italy's film darling
Fellini's next movie "La Strada" was showered with awards nationally and internationally. Amongst others, he won his first of four Academy Awards for "Best Foreign Language Film" (other movies awarded in this category were "Nights of Cabiria", "8 ½" and "Amarcord"), yet had to accept failures as well. Federico Fellini's films went on to show broad range – "8 ½" mixed autobiographical elements with surrealism and is regarded as trend-setting for experimentalism – which is why he was given the "Lifetime Achievement" Academy Award in 1993. A few months later, on August 3rd, Fellini suffered a stroke at Grand Hotel Rimini dying from the effects in Rome on October 31st of the same year.
Rimini commemorates Fellini
Federico Fellini's presence is felt all over Rimini. For instance, the city's airport and the park, where a Fellini memorial in the shape of a colossal camera can be found, were named after him. The park furthermore features the Grand Hotel, where the director resided in during most of his visits to Rimini. A special Fellini museum is located in the legendary Cinema Fulgor. Fellini and his wife Giulietta Masina are buried at the cemetery of Rimini-Rivabella. Murals on the colourfully painted house walls of the fishing district San Giuliano commemorate Fellini and Masina as well as scenes from their most famous films.