Rimini: map for orientation
Rimini's most interesting sights at a glance
Rimini at a glance: Before going on a great expedition of the beach and Malatesta metropolis, good preparation is necessary. All of the city's important sights and interesting spots can be found on the map of Rimini, which gives a first impression of the city's size and layout. The ZAINOO map not only features all sights of Rimini, but also every beautiful spot plus the places, hotels and restaurants described in this travel guide.
The useful Rimini map with lots of sights
No travel guide for Rimini with street-map and region map at hand? It's really simple: One click leads to the map, which can be enlarged and printed – ready for takeoff on an extensive tour through Rimini city centre.
Map: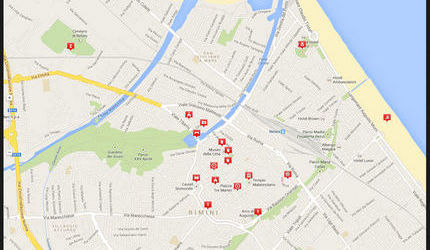 Download city map Print city map
By the way: Logged-in ZAINOO users can compose and print their very individual map with personalised tours and interesting facts about all interesting sights.
Interested? Register for free und use many other travel planning advantages.